The Bottom Line
Archos 7f G3 is well performing and an inexpensive option for those that are looking for a tablet in a limited budget. The tablet is ideal for everyday normal usage like eBook reading, web browsing, watching videos, and 3D gaming till a level. Archos 7f G3 will just run everything smoothly.
Read full review...
What You Will Like...
Good Display and Performance
WiFi and 3G Dongle support
Micro SD Slot
USB OTH Compatible
Supports 1080p full HD video playback
Newer Android 4.0 Ice Cream Sandwich Operating System
What You Won't Like...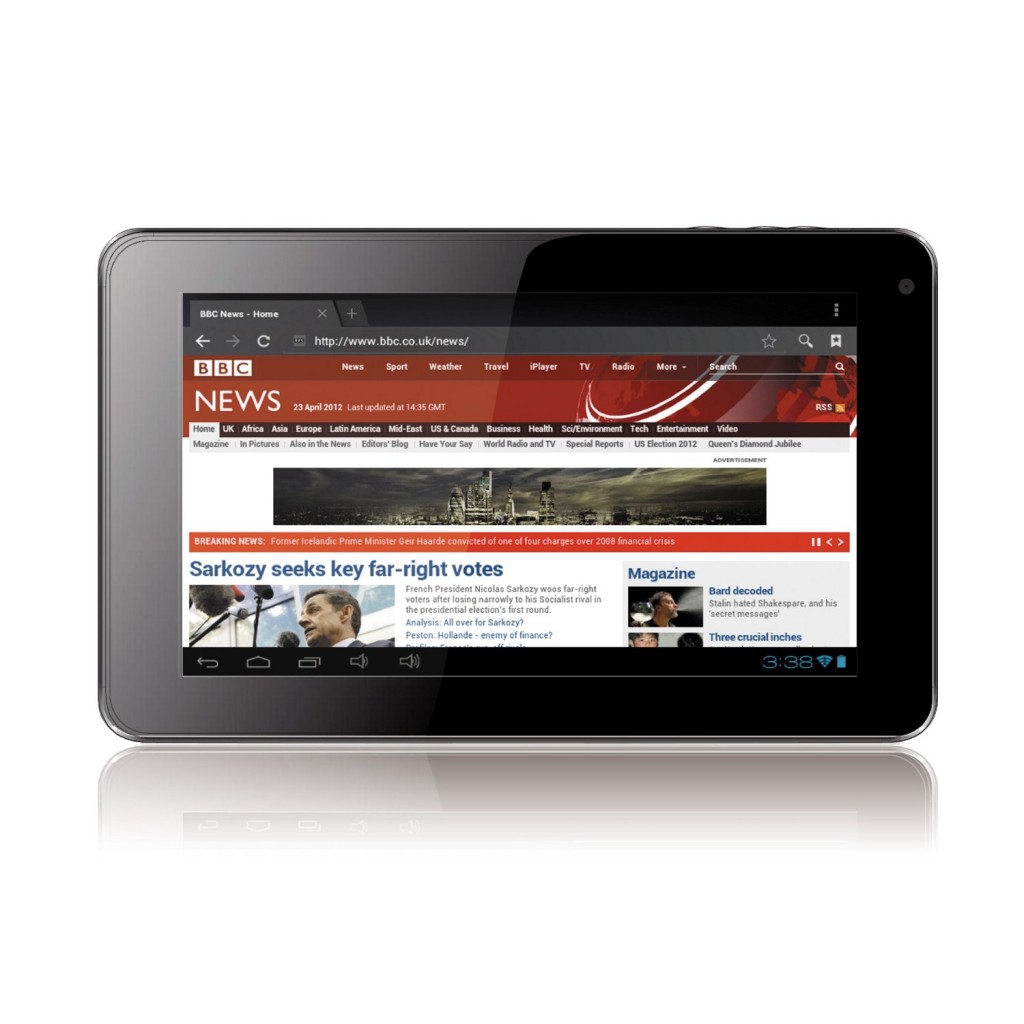 Archos 7f G3 is a low budget and features rich 7 inch tablet. It is equipped with better and newer Android 4.0 Ice Cream Sandwich operating system which brings significant changes in terms of both performance and features. Moreover, the build quality with a simple looking design is also good considering its low price.
Features
Performance
Archos 7f G3 has an AMD ARM Cortex A8 OMAP 3 processor clocked at 1GHz accompanied by 1GB RAM memory. The availability of such high performance processor and 1GB RAM ensures that this tablet can actually play HD videos, and graphics hungry games like Angry Birds easily. The tablet also does not cause hangups while surfing the internet or watching videos online. Overall, the tablet performance is quite decent at this price range.
Storage Space
This tablet comes with 4GB of internal storage space. Though, it could have been much better if the internal storage space was 8GB. But, no problem, the storage space can easily be expanded using a Micro SD card. Archos 7f G3 supports Micro SD card of up to 32GB.
Display
The tablet houses a 7-Inch capacitive 10 point multi touch screen which has resolution of 800×480. The touch screen of this tablet is quite responsive. Still being a 800×480 display, the display is quite sharp and clear. In fact its much better for a tablet that is priced around $100.
Connectivity
For connectivity, there is Wifi that makes it easy to connect to the internet and start connecting with friend right away. It also has mini USB port which can be used to attach flash devices, 3G Dongles, USB keyboard or USB Mouse. However, you will need a USB OTG cable to take full advantage of this feature.
HD Video Playback and Flash Support
The tablet has support for Flash which makes it possible to view videos online. In addition, if you have a 1080p HD video to play, then this tablet can smoothly play it. There is also a mini HDMI port which can be used to attach the tablet to larger TV screen or monitors. But, you will need a mini HDMI to HDMI cable for this.
Camera
The 1.3MP front facing camera is ideal to do video conferencing. Also, the picture quality of pics taken from the camera is also good considering it is only a 1.3MP camera.