The Bottom Line
Electronic Arts TR-A13 tablet has every feature that a tablet priced at this range can offer. If you have a very low budget, but still want a powerful 7 inch tablet, then this device is for you. This tablet is ideal for casual web browsing, eBook reading, managing your social networking accounts and normal gaming. If somehow you don't like this device, then you may also look at newly released Elsse 7" Android 4.0 A13 Tablet which is priced similar to this device, click here to read its review.
Read full review...
What You Will Like...
Value for money product
1GB RAM
Expandable storage space using Micro SD card
USB Flash drive Support
3G Dongles Support
What You Won't Like...
No Bluetooth or GPS
No HDMI Port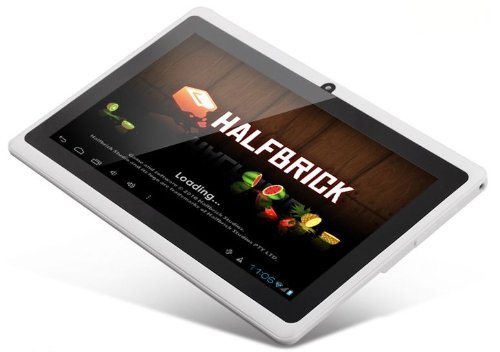 Editor's Note: Its hard to find Electronic Arts TR-A13 tablet pc in the market, so, you may also take a look at Tagital Tablet A13 Q88 Review which has better availability and performance.
Electronic Arts TR-A13 tablet is a power packed 7 inch android tablet with all the bells and whistle which a low cost tablet can offer, currently available for as low as $70 on Amazon Store.
TR-A13 Tablet Review
Performance
TR-A13 tablet has an ALLWINNER A13 processor clocked at 1.2GHz which is a lower power consumption and lower cost version of the ALLWINNER A10 processor. The tablet is also equipped with 1GB ram which ensures that you are unlikely to run out of memory when doing multitasking. This means that though you can perform most basic tasks like web surfing, eBook reading, playing music and watching movies, running less resource hungry games, but, won't be able to run heavy games and perform heavy multitasking. If you want to do heavy gaming and heavy multitasking, better increase your budget and buy another tablet.
Display
This tablet LED panel touchscreen has a resolution of 800×480, so don't expect the display to be crystal sharp. However, the lower screen resolution shouldn't be a problem for normal usage.
Storage Space
TR-A13 tablet has fixed internal storage space of 4GB which can be expanded further using a microSD card. Thus, you can have more data like pictures, eBooks, songs, etc. stored in the tablet.
Connectivity
The tablet has one Mini USB port(OTG compatible) which allows you to connect your USB flash memory devices, USB keyboard, and even 3G dongles to this tablet. Also, availability of WiFi makes things even better to connect to the internet. However, there is no GPS or Bluetooth in this tablet. But, even these two features are missing in other tablets that are priced higher than this one.
Battery Life
The manufacturer of TR-A13 Tablet claims that 2200mAh lithium ion battery provides battery backup of up to 4 hours when surfing the internet using 3G data network.
Other Features
For better web browsing experience the tablet supports Flash 10.1, which makes watching videos online possible. Also, its front facing 1.3MP camera enables to do video calling or video conferencing.