The Bottom Line
eLocity A7-004 aka eLocity A7+ is a good performer thanks to its powerful Nvidia Tegra 2 Dual Core processor. However, older DDR2 RAM and outdated Android 2.2 Froyo Operating  leave this tablet far behind then other latest offerings from different tablet pc manufacturers. So, until eLocity don't plan to update this device with at least latest Android ICS OS, its not recommended at all to buy this device.
Read full review...
What You Will Like...
Better Touchscreen
Powerful Nvidia Tegra 2 Dual Core Processor
Micro SD Card Slot
WiFi and Bluetooth Connectivity
Ability to attach USB flash memory devices and USB Keyboard
Flash Compatibility
What You Won't Like...
Older Android 2.2 Froyo Operating System
Older DDR 2 RAM
No GPS or A-GPS functions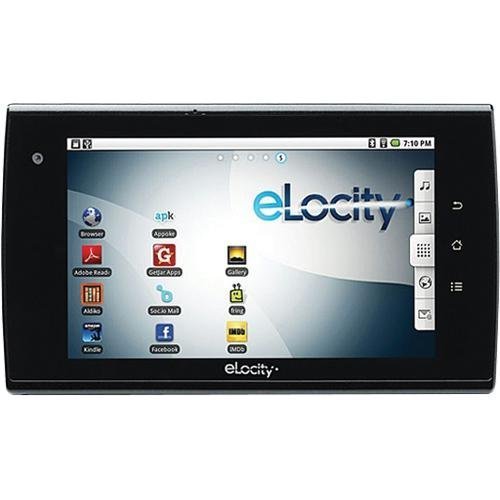 eLocity A7-004 aka eLocity A7 Plus is the latest tablet from eLocity with much more better screen resolution and touch screen than its older eLocity A7 counterpart. The screen resolution has been improved to WVGA (1024×600) from WVGA (800 x 480) in this newer tablet. Also, improved in this newer tablet is the touch screen, the newer tab hosts a capacitive multi-touch screen which is better and more responsive.
eLocity A7-004 Features
Powerful and Better Processing
The eLocity A7-004 tablet is powered by Nvidia's Tegra 2 dual core T-250 processor clocked at 1 Ghz having the capability to run 8 separate processes that can either run independently or together for maximum performance. Also, accompanied by 512 MB DDR2 ram clocked at 667 MHz, the tablet makes running multiple apps at the same time smooth i.e. multitasking can be done on this tablet easily. However, it would have been much better if DDR3 RAM was used instead of outdated DDR2 RAM.
But, still, this tablet is capable of running games like Angry Birds, Shadowgun, HeavyGunner 3D. Not bad if you are into gaming!
Large Storage Space(up to 100GB)
eLocity A7-004 has 4GB of internal storage space that can be extended to 32GB using a Micro SD card. Whats more even interesting about this tablet, is that it also has a USB 2.0 input that can be used to attach flash memory devices of up to 64GB. Thus, giving maximum total allowable storage space of 100GB.
Web Browsing & Flash Support
The eLocity A7-004 tablet also supports flash, thus if you are into a lot of watching videos online, then you must be happy to know that it is flash compatible. Thus, web browsing is lot more smoother and nicer.
High Definition Content Support
eLocity A7+ has a HDMI output port which can be used to connect the tablet with a big screen TV and view your HD movies collection in true 1080p high definition. Even if you don't want to view your HD collection on a big screen TV, then also, the tablet can play it for you though in its own 7 inch screen. However, HD videos are scaled down to 1024×600 when viewing on the tablet, but are played in true 1080p when played on a HD TV connected using HDMI port.
Video Chat
This tablet is equipped with a 1.3Mp front facing camera that can be used as a webcam to video chat with your online friends and colleagues. However, don't expect the pictures taken from it to be of superior quality, for photography instead buy a better digital camera!