The Bottom Line
Glanzix GL-7TA is cheap, features rich 7 inch android tablet that works very well. It is only let down by poorly placed speaker and lesser RAM. Otherwise, this Glanzix tablet is well worth the price and is recommended for people who are interested in doing basic tasks.
Read full review...
What You Will Like...
Cortex A8 1.2 GHz Processor
WiFi and 3G Dongles Support
Android 4 ICS OS
Responsive touch screen
Supports attaching USB keyboard, mouse and flash drives
What You Won't Like...
No Bluetooth or GPS
Only 512MB RAM
Poorly placed speaker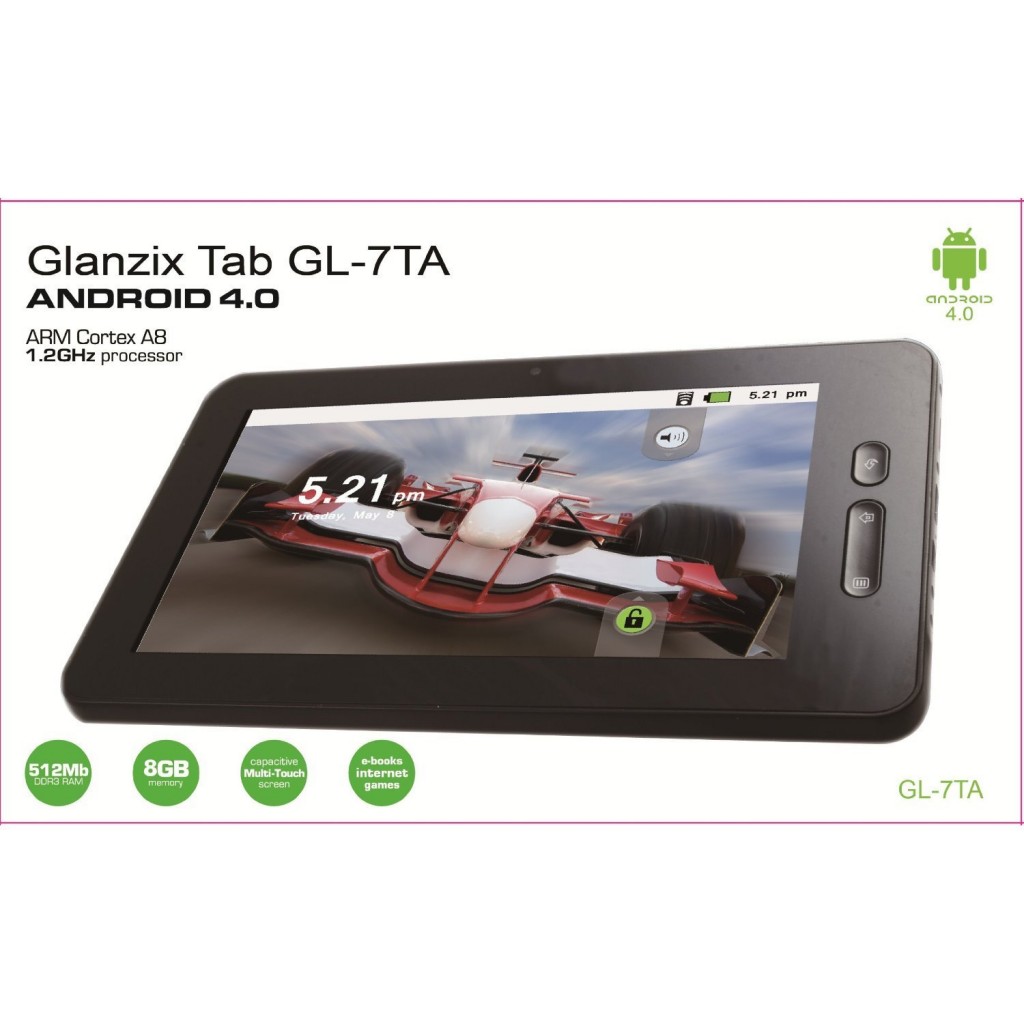 Buy Now
Glanzix Tab GL-7TA is a low cost 7 inch android tablet having almost every essential feature while managing to cut down the cost at the same time. This Glanzix tablet has newer Android 4 ICS operating system for better user experience and performance. Eventually bringing in better system stability.
Read the entire review to find out if this Glanzix GL-7TA is good buy or not.
Glanzix Tab GL-7TA Features
Performance
Glanzix tab GL-7TA has Cortex A8 CPU clocked at 1.2GHz and 512MB DDR3 RAM which makes running apps quick. The tablet is capable of running almost every app except for some system resource intensive apps. All the apps like Angry Birds, Netflix, Office(excel,word,PDF,powerpoint), Email, YouTube, Facebook, Instant messengers(MSN,Skype,etc), etc. works very well.
Storage Space
This Glanzix tablet has built-in storage space of 8GB which can easily be expanded using a Micro SD card as the Glanzix tab GL-7TA has support for Micro SD card of up to 32GB.
Connectivity
For connecting to the internet, Glanzix tab GL-7TA has WiFi 802.11b/g/n. It also has support for external 3G dongles (WCDMA,EVDO, TD-CDMA). Though for connecting 3G dongles, an OTG cable is required since the tablet don't have full sized USB port, instead houses a mini USB port. The good thing is that the OTG cable comes bundled with the tablet, so you don't have to spend extra money buying the cable. Since, the mini USB port is OTG compatible, therefore, it is also possible to attach USB pen drives, USB keyboards and mouse to the tablet.
Web Browsing & Video Chat
Glanzix GL-7TA has a front facing 0.3MP camera which is not that great but is good enough to do video chat via Skype. Also, the tablet has Adobe Flash 11.1 support which makes watching streaming videos from sites like YouTube, Netflix, etc. The web browsing experience on this tablet is very smooth.
Loud & Clear Speaker
The speaker of this tablet is loud and clear. However, the speaker is poorly placed on the back side of the tablet. As a result, if it is placed in a case, or lying flat on a table, the sound is greatly reduced. But, holding the tablet in the hand or elevating the tablet off the surface even a little bit solves the problem.
HD Video Playback
The tablet handles all the HD videos very well. It don't cause any hiccups while playing HD videos. Also, it has a mini HDMI port to connect and enjoy 1080p HD videos on your HDTV. You just need a mini HDMI to HDMI cable as it in not included in the package.
Other Features
Touch Screen
It has a 5 point Capacitive 7″ touch screen having screen resolution of 800×480 pixels which is quite responsive.
Battery Backup
It has a 3600MaH battery providing not the very greatest battery life. Though its not that bad too, the battery life can easily be improved with Android Battery Life Enhancer Apps or by reducing screen brightness.