The Bottom Line
MidPad MID M9000 tablet is for you if you want to get a taste of 9 or 10 Inch tablet PC without hurting your pocket. So, buy this device only if you want to perform very basic tasks, and don't have budget for buying something better. And, of course, if you can live with the above mentioned disadvantages.
Read full review...
What You Will Like...
New Android 4.0 ICS OS
Micro SD Card Slot
Comes with Google Play App Store
Good WiFi Connectivity & 3G Dongle Support
OTG Compatible Mini USB Port
High capacity battery of 4200mAh providing good battery backup
Affordable 9 Inch Tablet PC
What You Won't Like...
No HDMI Port
Only 512MB RAM
Weak Performance
Low Resolution Camera
No Bluetooth or GPS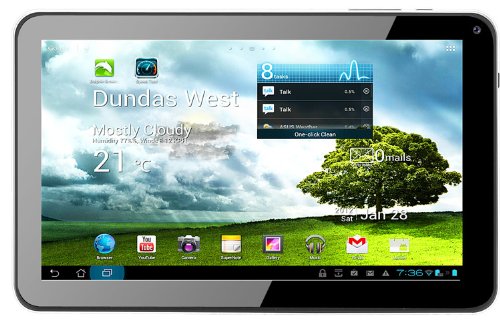 MidPad MID M9000 tablet features new Android 4.0 Ice Cream Sandwich Operating System resulting in better performance and improved system stability while introducing plenty of new features at the same time. Despite featuring larger 9 inch screen size, the tablet is still priced very low. It is currently available for as low as $100 on Amazon store
 and comes with an AC adapter, user's manual and warranty card. Unfortunately, mini USB to USB 2.0 female adapter cable is not included in the packaging.
MidPad MID M9000 Tablet Features
Performance
The processor of this MidPad MID M9000 tablet is single core, Cortex A8 clocked at 1.2GHz which is accompanied by 512MB DDR3 RAM. The performance of this device is just enough to perform basic tasks like eBook reading, playing HD videos, play games like Angry Birds, and surf the internet. The device has tendency to lag a bit in some intensive apps which is expected from low performing hardware of this device. Moreover, due to limited 512MB RAM, the multitasking experience is also not smooth. Clearly, based on performance, this device is for users who are going to perform very basic tasks. This device is not for you, if you are power user.
Display
MidPad MID M9000 tablet comes with 9 inch multi point capacitive touch screen which is responsive. But, the picture quality is not at all very good, screen resolution is knock off quality and grainy. The picture quality becomes more worse while running games.
Storage Space
The tablet is equipped with 8GB of fixed internal storage space, which can be further expanded by upto 32GB using Micro SD card.
Multimedia
MidPad MID M9000 tablet does well to play 1080p HD videos smoothly, but, is greatly let down by not providing the HDMI port. So, while this device allows to watch HD videos on its 9 inch screen itself, there is no way to connect this tablet to HDTV and enjoy that movie in bigger HDTV screen instead. The missing HDMI port may become deciding factor for a lot of people. However, it would be foolishness to expect everything from this device as there is reason for this device being priced low after all.
Video Chat & Web Browsing
The front facing camera, or just say front facing webcam, of this device is only 0.3MP. The camera is not only low resolution, but, also produce poor quality pictures, which wasn't very surprising considering the price. But, still at least it does well enough to do video calls via Skype.
The stock web browser loads web pages nicely, and you won't face any problem surfing the web, just make sure that no other unnecessary apps are running in the background for avoiding any lagging issue. Moreover, the availability of Flash support allows to watch videos from YouTube, which is very good experience. Netflix also works well on this device.