The Bottom Line
The Tagital A10 Tablet PC is recommended for anyone who wants to get the taste of Android, low on budget and wants a tablet pc primarily for performing basic tasks like web browsing, eBook reading, and occasional gaming. The Tagital tablet is not perfect as mentioned above, but, at this price, its a good buy.
Read full review...
What You Will Like...
Better Android 4.0 ICS OS
Good value for money
Micro SD Card Slot
HDMI and mini USB port
What You Won't Like...
No WiFi 802.11 n support
Low resolution camera
Only 512MB RAM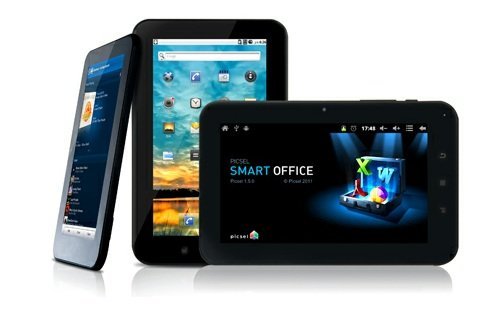 Tagital, a new tablet pc manufacturer recently announced its tablet on September 15, 2012 featuring new Android 4.0 Ice Cream Sandwich operating system, and carrying a price tag of around $80, as of writing this. The tablet can be directly purchased from Amazon store. Although, it carries a low price tag, but, is it still worth $80? Read the entire review to find out, and decide yourself whether you should buy it or not.
Performance
Tagital tablet comes with an AllWinner A10 processor clocked at 1.2GHz, Mali400 as its GPU providing good enough performance to run basic apps and less intensive 3D games. It is well capable of running games like Jetpack Joyride, Angry Birds, and even allows to do multi-tasking to an extent. However, the multi tasking experience is greatly affected by availability of lesser RAM, if you are a power user, and, planning to run several apps at the same time, then look for something powerful like Asus Google Nexus 7. As, this tablet has only 512MB DDR3 RAM, which is not that sufficient for doing glitches free multi tasking, therefore, is not recommended for power users.
Display
The display of this Tagital tablet is 7 inch capacitive 5 points multi touch screen having screen resolution of 800×480 pixels. The display is responsive, sharp, and clear for a 800×480 pixels touch screen. Considering the price tag that this tablet carries, the display is okay.
Video Calling & Web Browsing
The tablet has only 0.3 MP low resolution front facing camera which is not that good as it produces terrible quality pictures and videos. However, for video calling via Skype, it does quite well.
One thing that really disappoints about this tablet is the unavailability of much faster Wifi 802.11n standard as it only comes with older Wifi 802.11b/g support. Other than that, the tablet connects to Internet well via its WiFi, so, overall, web browsing experience is good on this tablet. Forget to mention, the tablet has Flash support, allowing to watch flash videos from sites like YouTube.
Storage Space
The device comes with 4GB internal flash memory, out of which around 2GB is available for use as the rest of it is taken up by the operating system and other system files. But, the good thing is that storage space can be expanded by up to 32GB using external micro SD card.