The Bottom Line
Tagital (TM) 10 inch tablet pc is an affordable 10 inch tablet pc that performs decently. However, the use of resistive display instead of capacitive is a big minus for the device. But, for the price, its a good buy, and is suggested for anyone who wants a tablet pc primarily for tasks like ebook reading, web browsing, playing some games and of course can live with its resistive display.
Read full review...
What You Will Like...
Android 4.0 ICS OS
Decent Performance
Very Good HD video playback
Two Full Size USB Ports and mini HDMI Port
Micro SD Card Slot
Nice Camera
Budget friendly 10 Inch tablet
What You Won't Like...
Resistive Display
Speakers aren't very loud
Not very good build quality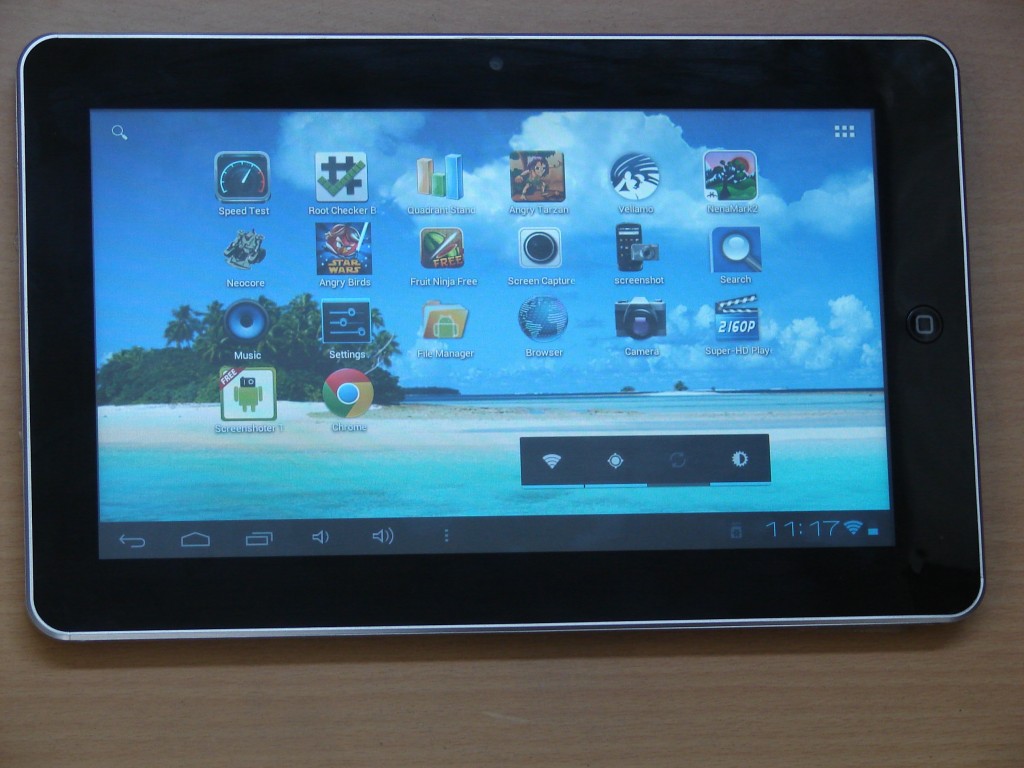 Tagital (TM) 10 inch tablet pc is an attempt to make 10 inch Android tablets more affordable for users on a low budget. This device is not designed to appeal to power users, instead, its designed to appeal to shoppers on a low budget looking for a tablet pc to meet their basic needs. The tablet first hit the Amazon store on October 13, 2012 and is currently selling at $124.99. But, is it a good buy? Let's find out.
The tablet comes with the new and better Android 4.0 ICS operating system and most interestingly, it comes rooted out of the box. So, you don't have to run into the hassle of finding a rooting solution for the device. An external GPS antenna, USB cable, charger are included as accessories in the packaging apart from the tablet itself.
Design & Build
The Tagital (TM) 10 inch tablet is available in black and silver color combination with the front being all black and an edge to edge glass screen with one physical button placed on the right. Though, the back cover is all cheap silver plastic, which not only make the device look cheap, but, also, make it more vulnerable to damages. However, no one should be complaining about this, after all, you only get what you pay for, and you aren't paying high for this device.
The power, volume up and down, menu and home physical buttons are on the top, along with the two speakers, stylus holder and a port for connecting the external GPS antenna. The reset button is present on the bottom edge. On its right, there is a 3.5 mm audio jack, two full sized USB ports, TF card slot, mini HDMI port, ethernet port and a charging point. It should be noted that out of two USB ports, the USB port nearing the audio jack is for connecting the device to PC only, while the other one is for connecting OTG compatible devices like flash drives, USB keyboard, and mouse to it.
Display & Audio
The display of this 10 inch tablet pc is resistive having screen resolution of 1024 x 600 pixels. Since, the display is resistive, therefore, it don't supports multi touch inputs and is less responsive to the touch inputs compared to that of capacitive displays. However, when we used the stylus for providing inputs, the screen was notably more responsive which was expected. Apart from resistive display, another flaw we found in the display was that it was little bit too overbright. One good thing that we found in this device display was its good viewing angles.
The speakers present on this device aren't very loud specially when compared to that of Tagital A13 Q88 tablet. But, the placement of the speakers is good, instead of being placed on the back side, they are placed on the top, so, the audio is not affected even when the tablet is lying flat on the surface.
Performance & Benchmarks
This Tagital (TM) 10 inch tablet comes with an AllWinner ARM Cortex A8 processor running at 1 GHz and 1 GB DDR3 RAM. The performance is good for handling basic tasks. While surfing web or playing games we didn't faced any hangup or freezes, hopefully, you will also don't face any hangup or freezes. For normal usage, this tablet works well. You can also see the next Features & Apps section to see which apps run well on this device or not.
Well, that was how it performed in real world when used for normal work. Below, you can also see the test results of the various benchmarks we did on this tablet pc.
AnTuTu Benchmark Test Results
Total Score : 3133
CPU : 841
GPU : 1354
RAM : 399
I/O : 539
Vellamo Benchmark Test Results
Quadrant SE Benchmark Test Results
Features & Apps
Camera
The front facing camera of this tablet pc is 1.3MP, producing decent quality pictures. The camera is good for video calling and for taking snapshots to share on social networks with your friends and colleagues. The camera also allow to shoot videos and is certainly better than all other Tagital tablets we have reviewed.
Storage Space
It comes with only 4GB of fixed internal storage space, which can be further extended by inserting a Micro SD card to its Micro SD Card slot. However, extra care is required when inserting Micro SD card to the slot, as forcefully inserting micro SD card may damage the slot itself and you might end up with your Micro SD card inserted in the tablet for forever!
The tablet faced no problem detecting USB pen drive, also since, the port is full sized USB port, therefore, extra cables aren't even required for connecting USB flash drives.
WiFi & 3G Support
The tablet supports even the latest WiFi 802.11n standard providing good WiFi speeds. We didn't faced any connection drops while using WiFi. Also, since, the tablet has an OTG compatible USB port, therefore, 3G dongles can be used providing 3G support externally.
Multimedia
The Tagital (TM) 10 inch tablet has a mini HDMI port for connecting it to larger HDTVs for better viewing experience. This is a good feature to have if you love watching movies. Now, regarding how well it plays HD videos? We played a 1080p HD movie from a USB flash drive attached to the tablet, the playback was very smooth. Even when we skip a large video portion, the video resumed from its new position without any delay. The video was played in Super HD player.
GPS
The device comes with an external GPS antenna, so, it can be used to get GPS support on this tablet. Well, at least there is a way to get GPS on this tablet.
Apps
The tablet comes with Google Play app store and apps like Skype, Fruit Ninja, Angry Birds, Super HD Player preinstalled. We played several games like Angry Birds, Skater Boy, Speed Car II, Fruit Ninja and even newly released Angry Birds Starwars without any issue. The games like Dead Trigger also run well on this tablet, but, since the display don't support multi point inputs, therefore, playing it was bit of difficult. In short, wasn't very enjoyable. The same is with Angry Tarzan.