The Bottom Line
vitalASC Center-ST0716-16G is a rightly priced tablet that brings you speed and power to play the latest games, browsing the web, eBook reading, photo viewing and music playback, social networking and watch HD videos on the go.
Overall, being a low priced tab, this one is a good buy if you are looking for some cheap tablet, yet don't want to compromise with the features.
Read full review...
What You Will Like...
Support for USB 3G Dongle, EVO/WCDMA
Micro SD Card Slot
Flash Support
Better Google Android 4.0 Ice Cream Sandwich Operating System
WiFi 802.11b/g/n and Bluetooth Support
What You Won't Like...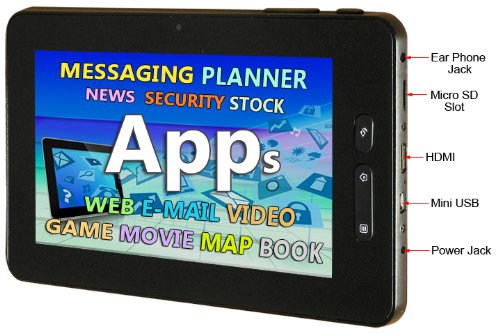 vitalASC Center-ST0716-16G is a 7 inch tablet powered by a BOXCHIP A10(Cortex A8)processor. The processor is clocked at 1.2Ghz which when required is automatically accelerated up to 1.5 GHz. This way it leads to very low power consumption utilizing system resources efficiently providing better battery backup of around 5-6 hours. Keep reading vitalASC tablet review for more information about this vitalASC tablet pc.
The tablet also features a responsive 5 point capacitive multi touch display having an aspect ratio of 16:9. Unlike resistive touch panels, this 5 point capacitive multi touch display is much better in terms of responsiveness.
Features
Performance
Since the tablet is powered by a BOXCHIP A10(Cortex A8)processor and 512MB DDR3 ram which are usually 30% faster and power saving than DDR2 rams. Therefore, it can handle power hungry and resource hungry apps comfortably. Though, if you are really heavy user, who usually have have way more apps opened simultaneously, then limited 512MB RAM may cause problem. But, still for normal usage it shouldn't cause any problem. For example, you can still have web browser open, while playing music in the background, with an app downloading, all at the same time.
Gaming & Graphics
vitalASC Center-ST0716 is housing Mali-400 3D Accelerator Open GL to handle all the graphics related work. This means that it is well capable of playing HD videos at 1080p and playing games like Angry Birds smoothly. However, don't expect that it will smoothly play all games thrown at it.
HD Video Playback
The tablet can play HD videos at 1080p and even at 2160P, though you will need to connect the tablet with a large TV screen that supports the resolution of 3840 x 2160. Otherwise video viewing will downscale to fit your screen resolution of display.
Storage Space
vitalASC Center-ST0716-16G has inbuilt storage space of 8GB which can be extended using a Micro Sd card. The maximum capacity of the Micro SD card that can be added is up to 32GB. The storage capacity can also be increased further by attaching USB drive to the mini USB port of the tablet.
Connectivity
The tablet has one mini USB 2.0 port which can be used to attach 3G USB dongle, internet card, USB drive or USB keyboard. Thus, if you don't have WiFi connectivity at your place, and instead have 3G USB dongle or internet card, you can still surf the internet. Also, if you have a lot of typing work or are more comfortable typing with keyboard rather than typing on qwerty keypad of touchscreen. Then, you can increase your productivity greatly by attaching a USB keyboard.