The Bottom Line
All Land Networking 7" Android tablet is good for basic usage like eBook reading, web browsing, watching HD videos, sharing pictures with your friends on social networking sites, video calls via Skype, etc. This tablet is just not right for users who have tendency of working with multiple apps running simultaneously as there are high chances that the tablet may become unresponsive. Only go for this if you are on a tight budget.
Read full review...
What You Will Like...
New Android 4.0 ICS OS
OTG Compatible
WiFi & 3G Dongle Support
Micro SD Card Slot
Responsive Touch Screen
Low cost
What You Won't Like...
No support for WiFi 802.11n Standard
Occasional hangups
Short Battery Life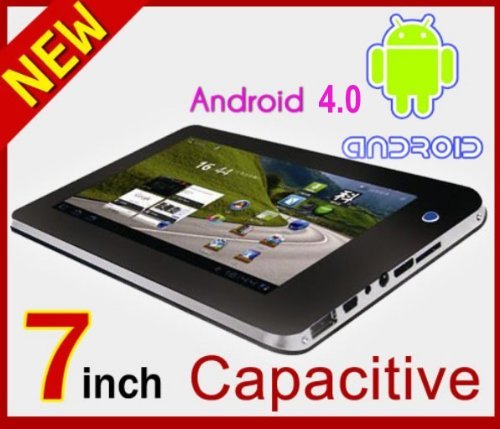 All Land Networking 7″ Android tablet is equipped with the new Android 4.0 Ice Cream Sandwich Operating System and is currently available for as low as $72 on Amazon
. It comes with the following accessories: power adapter(DC 5V/2A), mini USB male to male port USB 2.0 cable, mini USB male to USB 2.0 female port USB cable and an instruction manual.
All Land Networking 7″ Android Tablet Features
Performance & Gaming
This tablet features an AllWinner A10 1.2GHz processor, Mali 400 GPU for handling graphics and 512MB DDR3 RAM. The GPU provide support for Open GL ES 2.0, 2D and 3D Hardware Acceleration for optimum gaming performance. As a result, all the games like Angry Birds, Asphalt 7, Temple Run, Gelato Mania, etc works well. However, the tablet does have a tendency to freeze occasionally, usually when running intensive apps and few 3D games. The only solution to avoid such freezes is by not running too much apps at the same time. The performance of this tablet could have been much better, if the amount of RAM was 1GB instead of 512MB RAM.
Touch Screen
All Land Networking tablet has 800×480 pixels 7″ capacitive 5 point multi touch screen which is quite responsive. The picture quality of the touch screen is also quite decent for a low budget tablet.
Web Browsing & Video Chat
The tablet supports Flash 11.1 which makes viewing YouTube videos experience enjoyable. Netflix movies also works well. Moreover, its 0.3MP front facing camera allows to do video call via Skype. However, the camera is not that great but it does the job. The ability to make search via voice is also good.
Storage Space & Multimedia
The tablet comes with fixed 4GB internal flash memory out of which around 2.2GB is occupied by the system files. But, there is an option to expand the storage space by upto 32GB via Micro SD card in addition to the fixed internal storage space.
Its stock player supports 1080P videos formats like MKV, AVI, VOB, MPG, FLV, RMVB and plays 1080p HD videos well. Since, there is also HDMI output port, the tablet can also be connected to HDTV.
For music lovers, there is 3.5mm headphone jack and the stock media player supports the following audio formats: MP3, WMA, APE, FLAC.
WiFi & mini USB Port
For connecting to the internet, there is Wifi 802.11b/g, but, the much better Wifi 802.11n standard is missing. Also, its mini USB port is OTG compatible which allows to connect 3G dongles, flash drives and USB keyboards to this tablet. The cable required, already comes with the tablet.