The Bottom Line
Elsse 7" Tablet PC featuring Android 4.0 ICS Operating System and A13 Processor is clearly for consumers who wants a bigger screen which they can carry with them to do basic tasks like web browsing, eBook reading, connect with friends via Facebook, Twitter, etc. and play games occasionally. This device offers good value for money, so buy it only if you are planning to do basic tasks and have limited budget, it will serve you well. You may also take a look at Tagital A13 Q88 having similar tech specs and priced similar to this one.
Read full review...
What You Will Like...
Android 4.0 ICS Operating System
WiFi & 3G Dongle Support
Micro SD Card Slot
Google Play Store
Flash Player 11.1 Support
Value for Money
What You Won't Like...
Low Performance Hardware
Poor Battery Backup(around 4 hours when running less intensive apps)
No HDMI Port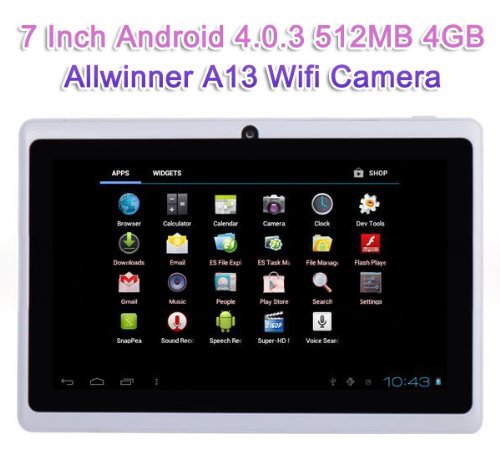 Elsse has come up with a low cost 7 inch Android 4.0 ICS tablet for consumers not willing to spend too much on buying a new tablet. Elsse 7″ Tablet PC hit the Amazon store
on September 10, 2012 and is currently available for as low as $70. Within short period of time, the tablet has already become one of the bestseller (based on Amazon Best Sellers Rank) competing directly with the similarly priced Tagital Tablet A13 Q88. Well lets find out what Elsse did to bring the cost down and if it offers good value for money or not.
Elsse 7″ Tablet PC Features
Design & Build
Elsse 7″ tablet is available in white color measuring 182 x 120 x 12mm (L x W x T) in dimensions making it quite an attractive device. It doesn't feature any physical button on its front, but, does have physical volume up, volume down and power button. The volume up and volume down are placed on its top side, while the power button is placed on the right side of the tablet which avoids any accidental press of the power button.
Performance
The tablet features BOXCHIP A13 Multi-Core processor clocked between 1.0GHz-1.2GHz, Mali 400 GPU and 512MB DDR3 RAM. Since, the BOXCHIP A13 processor doesn't have HDMI connections, therefore, this tablet doesn't come with HDMI port. Also, its limited 512MB RAM is not good enough to run multiple apps simultaneously. However, the tablet does run games like Angry Birds, Fruit Ninja, etc well. Overall, the device performs good until and unless you don't put too much load on it by running intensive apps.
Display
The display of Elsse 7″ tablet  is 5 point TFT LCD Capacitive Touch Screen having screen resolution of 800 x 480 pixels. Being a multi point touch screen, it supports touch gestures like pinch to zoom, tap, etc. Considering Elsse 7″ tablet is a low budget tablet, the display is quite descent and responsive.
Storage
Elsse 7″ tablet comes with 4GB of fixed storage space which can be easily expanded further by upto 64GB using a Micro SD card. When most of the tablets at this price range supports Micro SD card of upto 32GB only, this device provide support for Micro SD card of upto 64GB. Is this good thing, well not so, as 64 GB Micro SD card will cost you a lot.
Web Browsing & Video Chat
Elsse 7″ Tablet PC tablet has a front facing 1.3MP camera which is good enough to do video chats or Skype video calls. Also, since it comes with Flash Player 11.1 support, watching Netflix, Youtube videos is quite a pleasure. Moreover, its stock web browser loads webpages nicely.
Multimedia
The tablet supports all the popular video formats, including VP8, H.264, H.263, VC-1, MPEG-1, 2, 4, DIVX-3, 4, 5, 6, XVID, WMV7/8, VP6, AVS. It comes with Super-HD Player for playing video files. But, the device is let down by the missing HDMI port. So, certainly this device is not for multimedia lovers who likes to watch movies a lot, looking for a tablet thinking they will be able to enjoy their HD movie collection on bigger HDTV screen by connecting the device to HDTV via HDMI port.
WiFi, 3G & USB Port
For connecting the device to Internet, there is support for WiFi 802.11 b/g/n and the good thing is that the latest WiFi 802.11n standard is also supported. Moreover, there is a micro USB port which can be used to connect 3G/WCDMA dongle and USB keyboard to this tablet.