The Bottom Line
Fuhu NABI NABI2-NV7A is well built device that can make both the kids and parents happy. It is only let down by non availability of Google Play store. But, still, this tablet is recommended for parents looking for an intuitive way to teach kids new lessons without making the learning experience boring for your kid.
Read full review...
What You Will Like...
Powerful NVIDIA Tegra 3.0 Processor
1 GB RAM
$250 worth of pre-loaded apps and eBooks
2GB FREE Cloud Storage
Bluetooth 3.0 & WiFi 802.11 b/g/n
Protective & food grade silicone bumper case
Plenty of Educational Apps & Features
Parental control via Nabi Mode
Micro USB & mini HDMI Ports
What You Won't Like...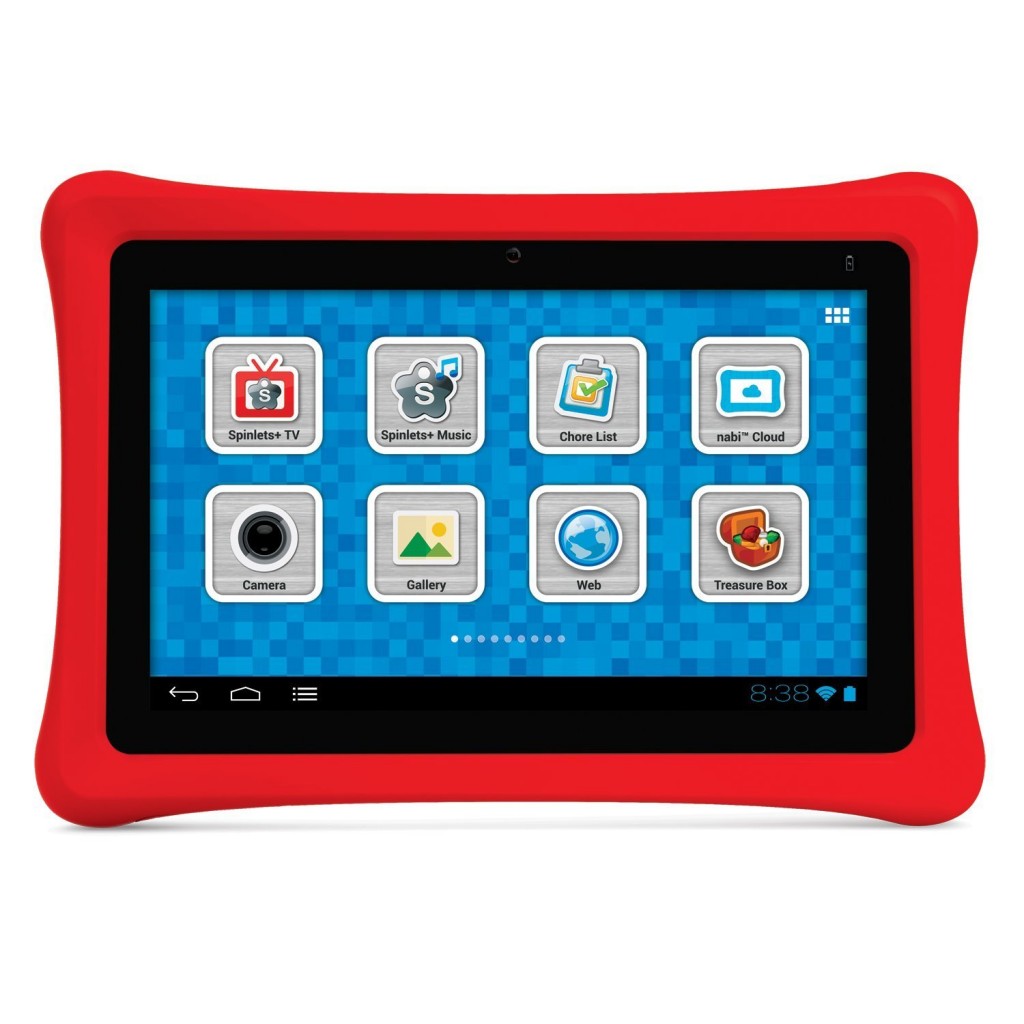 Fuhu NABI NABI2-NV7A is the 2nd generation tablet from FUHU Inc.(creators of Fooz Kids) designed with kids in mind. Despite being a 7 inch Android 4.0 Ice Cream Sandwich tablet, this tablet is bit different from other traditional Android 4.0 ICS tablets as it features two distinct Android environments; one for kids with kids interface and launcher and the other one is traditional Android interface with stock ICS launcher. The kids interface aka Nabi Mode can easily be disabled making it a fully functional traditional Android tablet thereafter making it usable by an adult. When the Adult Mode(Mommy & Daddy Mode) is turned off, the Nabi returns automatically to the kids interface. The Mommy & Daddy Mode is password protected, so unless your kid knows the password of it, there is no way your kid can gain access to the Adult Mode.
Fuhu NABI NABI2-NV7A Video Overview
Design & Build Quality
Fuhu Nabi 2 comes with a pretty thick red rubber bumper case which not only protects it pretty well from drops and spills, but, also provide extra grip. The red bumper is made from food grade silicone, thus, if your kid has habit of chewing things, it won't create any health related issue for your kid if your kid decides to chew the tablet.
Along with the drop safe bumper, it weighs just 1.31 Pounds and have dimensions of 8.69 x 6.05 x 1.14 inches (Length x Width x Depth).
Moreover, the bumper case is removable, so if you don't like the bumper case color or anything, it can easily be removed to reveal a sleek white tablet.
Performance
Though the tablet is designed with kids in mind, the tablet still has something that adults will greatly like about this and that is its power packed performance. The tablet features powerful NVIDIA Tegra 3.0 quad core processor clocked at 1.3 GHz and 1GB RAM. Games like Angry Birds, Fruit Ninja, Riptide, Hockey Nations, Bang Bang Racing, Kung Fu Panda, Burn the Rope etc. runs very fast on this device. In short, everything runs fluidly then whether you are surfing the web, multitasking between the apps or just playing games. The tablet runs smoothly with no freezes or crashes.
Storage Space
Nabi 2 comes with fixed 8 GB internal storage space which can be expanded further via Micro SD card. It should be noted that the Micro SD card of up to 32GB are supported. One more thing, you also get 2 GB FREE Cloud Storage space with the tablet.
Touch Screen
The display is multi-touch capacitive featuring 1024 x 600 screen resolution. The touchscreen is extremely responsive, bright and displays colors nicely.
Web Browsing & Camera
The Fuhu NABI NABI2-NV7A has 2MP front facing camera which allows kids to either snap pictures or shoot their own videos. Skype comes pre-installed allowing to do video chatting, and the camera does its job exactly what you'd expect from a 2MP camera, good but not the best.
Teaching Kids A Lesson!
Since, the tablet is meant for kids, it provides wide range of features and apps to engage, entertain and educate kids including kiddified web browsing. The tablet has Fooz Kids University, an integrated learning system that includes lessons to help your kid improve at Math, English, Science, and Social Studies.
Moreover, the ability to make the right decision and be responsible for that decision is one of the most important thing that as parents you would like to teach your kid at an early stage. For facilitating this purpose, Nabi's Chore List and Treasure Box assist parents in teaching children how to make the right choices. This is done as follows: you as parents create list of chores that when completed by your kid are checked off. Since, the Chore List app is directly tied to the Treasure Box, a reward system that lets you set rewards which your kid unlocks on completing the chores. The rewards  consist of additional apps that can be installed by your kid on the Fuhu Nabi 2.
Other Features
The tablet is equipped with both the WiFi 802.11 b/g/n and Bluetooth 3.0. The support of FOTA( Firmware Update Over the Air) allows to easily update the device with the latest software and configuration settings with just one tap.
Moreover, it comes with over $250 worth of pre-loaded apps and eBooks which makes it a nice deal.