The Bottom Line
The Tagital Tablet A13 Q88 carrying the price tag of around $70 is a good entry level tablet pc . This tablet handles tasks like reading emails, surfing web, play games, and watch HD videos well. However, the unavailability of HDMI port, poor battery backup and few occasional freezes probably won't even impress some users , but for playing Angry Birds, checking Facebook, and reading eBooks, this device can suffice. And, the best thing is, it won't even hurt your pocket! The device also managed to run some of the latest games like Angry Birds Starwars without any problem.
In short, buy this device if your budget don't allow you to buy something more expensive like $129 Asus Memopad 7 HD
 or $100 Lenovo Ideatab A1000 8GB tablet
.
Read full review...
What You Will Like...
Great value for money
Comes pre rooted
Google Play
Smooth HD Video Playback
Supports all three WiFi 802.11 b/g/n standards
What You Won't Like...
Very few occasional freezes and hangups
Poor Battery Backup
No HDMI Port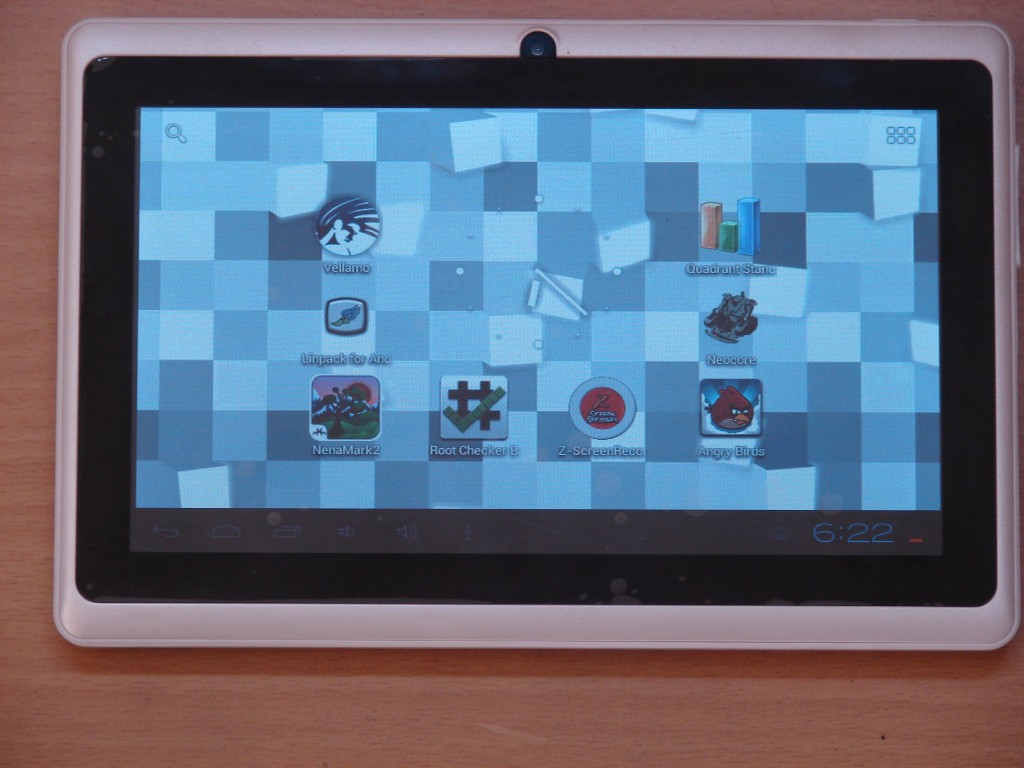 The Tagital tablet A13 Q88 is the cheapest offering from Tagital brand, currently selling for around $70, as of writing this. The introduction of this tablet is the result of heavy competition in the low budget segment. Recently, a lot of small manufacturer has started selling low cost tablet bringing lot of healthy competition in the low budget segment resulting in more choices and low priced tablet pc. Lets see where this Tagital Tablet A13 Q88 stands in the market and is there anything which differentiates it from the rest.
The Tagital tablet we are reviewing today was first introduced on October 28, 2012 and can be purchased directly from Amazon.  It features new Android 4.0.4 operating system and comes rooted out of the box, that means you can easily install apps from the Google Play store requiring root access without voiding the warranty.
What comes in the box? Apart from the tablet pc itself, a mini USB cable,  a mini USB OTG to USB 2.0 adapter, charger, earphone and an instruction manual are included in the packaging. We didn't liked the earphone  audio quality that came with the tablet, however, the inclusion of mini USB to USB adapter is something we surely liked.
Design & Build
This Tagital tablet measures L x W x H, 7 x 4.75 x 0.30 inches in dimensions and weigh just 9 ounces. The device not only has a nice looking sleek white design, but, is also lightweight. However, there are only two physical buttons present, power button placed on the top side, while the volume up and down buttons placed on its right side. Since, there are no physical buttons present for going back or returning to home screen, therefore, this functionality is handled by the touch buttons provided by the OS user interface itself. Not a very big issue!
On the top, there are micro USB port and charger port. The 3.5mm headphone jack and microSD card slot are present on the right side. No HDMI port is available though.
Now the most compromised area, the tablet build quality, the back panel and the running white border on the front is cheap white plastic. This could be identified from the fact that, in a dark room when we used the tab, we could see the bottom left and bottom right corner of the device glowing. The Tagital has managed to cut down the tablet price by compromising with its build quality. This means that you will have to handle it with care.
This Tagital tablet is light, got decent build quality for the price, and have a sleek design, more can't be expected from a device priced very low like this.
Display & Audio
The display of Tagital A13 Q88 tablet is 5 point capacitive touch screen having screen resolution of 800 x 480 pixels. Initially you may face little problem adjusting with the touch screen of the device, but, within short time, you will get used to it. This happened with us too! The picture quality is very crispy, and touch screen responsiveness is also okay. The viewing angles aren't bad either.
The speaker is placed on the back side of the tablet which is loud enough for personal entertainment. For testing the output from the headphone jack of the tablet, we used an AUX cable to connect the tablet to Philips HTS 9140 Soundbar, the output from the device was very satisfactory.
Performance & Benchmarks
The CPU powering this tablet pc is a single core Boxchip A13 Cortex A8 running at 1GHz frequency, which is well supported by 512MB DDR3 RAM and Mali 400 GPU. It should be noted that while performing performance benchmarks on this device, the tablet was connected to AC supply and a high performance SanDisk micro SD card was inserted for measuring how well it performs read/write operation on SD card.
The test results were captured as screenshots and are available below:
The device performs surprisingly well in the benchmark tests we did. In real world applications too, the tablet performs well. However, there were few occasions when it displayed not responding errors, but, either clicking on "wait" or killing the non responding app, solved the problem. The multitasking is also somewhat decent on this device, for testing this, we ran music player in the background while doing web browsing, switching between the browser and music player for changing the song was breeze.
Features & Apps
Camera
This Tagital tablet has 0.3MP front facing camera, which is well suited for either doing video calls via Skype or taking snapshots for sharing on social networks. For the price, the camera is way better.
Storage Space
Although, the Tagital tablet A13 Q88 comes with 4GB fixed internal storage space, but, not all the space is usable. You are left with around 2.21 GB space, as the rest of storage space is taken by system files and operating system. But, the presence of Micro SD card slot makes it possible to further extend the storage space by up to 32GB. However, as there aren't any instruction printed nearby the TF Card slot, depicting from which side to insert the micro SD card, therefore inserting microSD card into the slot is more of trial and error method.
For further testing how well it detects the flash drives attached via its OTG compatible USB port, we connected an external 1TB Seagate USB 2.0 HDD. The tablet faced no problem detecting the hard disk, and even opened all the files we tried opening without any problem.
WiFi & 3G Support
This device has Wifi 802.11b/g/n support. The WiFi signal reception is good, there weren't any connection drops and the overall speed was good. It also supports 3G externally via its OTG compatible mini USB port.
Apps
The tablet we received for review came preinstalled with Super HD Player as its main video player. While the player was able to play some of the 1080p HD we tried playing, but, not every HD video we tried playing. This looked like a software issue, so we installed MX Video Player from Google Play(yes, the tablet comes with Google Play installed), which played the 1080p HD videos flawlessly. We recommend if you buy this device, also install MX Video Player from Google Play, and use Super HD Player as a backup media player instead.
If you are wondering whether you can play games on this tablet or not, then to answer you, we run several games on this device namely, Angry Birds, Temple Run, Fruit Ninja, Skater Boy, Speed Car II and Shadow Gun. While Angry Birds, Temple Run, Skater Boy and Speed Car II managed to run flawlessly, the Fruit Ninja failed every time giving error, "Unfortunately, Fruit Ninja Free has stopped." and Shadow Gun kept running with low frames per second. But, the latest Angry Birds Starwars, managed to run without any problem and with good frame rates.
Battery Life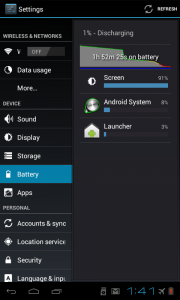 For testing the battery life of this tablet, we played a full HD video continuously till the battery level was reduced to 1%, so that we could take screenshot of battery usage pattern before it gets shut down automatically. Before we started playing the video, the battery was fully charge, video was played in MX Video Player, with screen brightness set at 10 and volume at maximum i.e. 30. It took around 1 hour 52 minutes for the battery to drain which in our opinion is quite low. However, more can't be expected as the battery present in this tablet is only 1800mAh which is not a high capacity one. You can also see the battery usage pattern for further details in the attached screenshot.
Forget to mention, the device also supports charging via USB, if that matters to you.