The Bottom Line
What You Will Like...
What You Won't Like...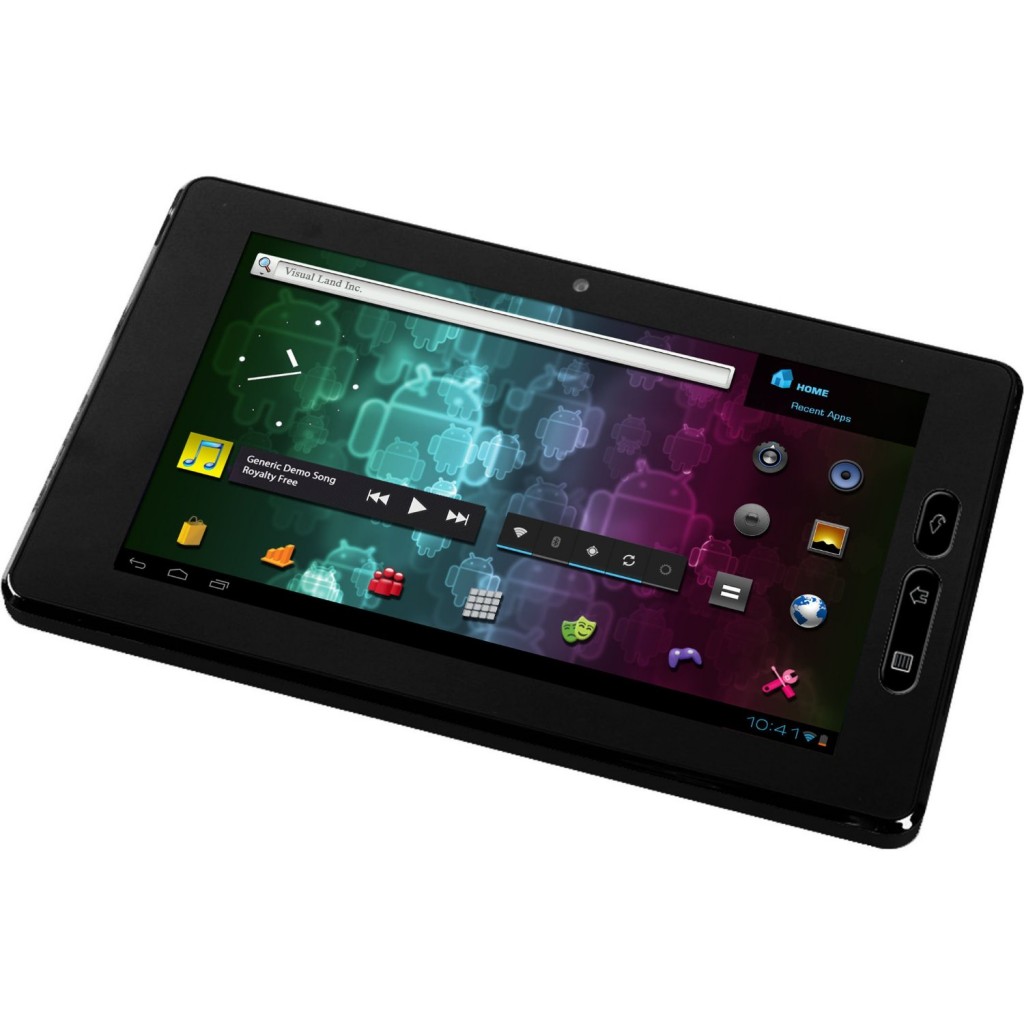 Visual Land Connect VL-879-8GB-BLK-ICS is a budget tablet by Visual Land that features new Android 4.0 Ice Cream Sandwich operating system. It measures 7.50 x 0.50 x 4.70 inches (L x W x H) in dimensions weighing just 10.6 ounces. It is available in nice black color and features a Visual Land logo on its back side. The tablet has a physical power button and volume up and down buttons. It also has a home, secondary menu button and a back button below the display screen which are unfortunately not illuminated by backlight.
Visual Land Connect VL-879-8GB-BLK-ICS Features
Performance
Visual Land Connect VL-879-8GB-BLK-ICS supports a Cortex A8 1.2GHz processor which can handle most of the apps well but the 512MB DDR3 RAM may slow down things. If you are one of the power android user, you will not found the multitasking experience on this tablet to be smooth because of limited 512MB RAM. However, if you are looking for performing some basic stuff on this tablet, like web browsing, watching videos and little bit gaming(Angry Birds, Fruit Ninja etc.), this tablet can suffice your needs.
Touch Screen
The tablet has 7″ Capacitive Multi-Touch Screen which is responsive and supports finger gestures. For example, a simple swipe can be used to move between pictures or screens or a two-finger pinch can be used to zoom out on of an image, and vice versa. The native resolution of the screen is 800 x 480 pixels, which is good enough to display the images and pictures crisply, of course when looked from the distance. Overall, the touch screen is of good quality for low budget tablet.
Multimedia & Storage Space
Visual Land Connect VL-879-8GB-BLK-ICS handles 1080p HD videos smoothly. The mini-HDMI port allows to connect the tablet to monitors and HDTV. Moreover, since, the tablet comes with 8GB of fixed internal storage space and an option to expand the storage space further upto 32GB via Micro SD card, it can easily be used to enjoy movies and videos. The apps like Netflix also works well.
Video Chat Web & Web Browsing
The Visual Land  VL-879-8GB-BLK-ICS 1.3MP front facing camera is ideal for doing video calls via Skype. The camera is of decent quality and does the job well. The support for Flash 11 allows to watch flash videos, games and YouTube videos online. Its stock browser also loads webpages nicely, but, if you don't like the stock browser, you can always install Firefox, Opera Mobile as your taste allows.
WiFi & USB Port
The tablet supports WiFi 802.11b/g/n for connecting to the internet. Also, its mini USB 2.0 port is OTG compatible which means that USB devices like USB keyboard, USB flash drive can be connected to the tablet. An OTG cable which is required to do so comes bundled with the tablet. Moreover, the tablet supports charging via USB.